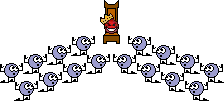 Is coming starts 1st of July
Can you be the King/Queen of the yard, starting on the 1st of July we will find out each month who really is the top tipster each month.
Rules.
1. 2 BETS A DAY WIN ONLY + EACH WAY
2. 300 POINTS BANK
3. LOSE POINTS WIN POINTS
WILL YOU BE SO BRAVE TO MAX OUT WHEN IT BE YOUR ENTIRE BANK ON THE LINE BE NO SECOND CHANCES IF YOU NAP/MAX OUT YOU OUT FOR THE ENTIRE MONTH ULTIMATE DEATH, OR WOULD YOU PLAY IT SAFE LIKE AN ASSASSIN SNEAK THE POINTS SLOWLY UP TO BECOME KING/QUEEN AND DETHRONE THE TOP PLAYER.
END OF EACH MONTH WHOEVER GETS TOP SPOT WILL GET A £10 PAY SAFE CARD VOUCHER TO DO WITH HAS YOU PLEASE MOST BOOKIES TAKE THEM VOUCHERS ONLINE OR USE IT ON WHATEVER YOU LIKE.
CAN YOU BECOME KING/QUEEN 
If you Max out and win on a horse above 5/1 you get a Assassination Star meaning you can deduct half of someones pot and everyone will be awarded a number and a generator will be spun and whatever number it lands on that person will be awarded them points i will be in charge of that so it is fair because i will be banned from winning the game so i will be impartial then all knowing the generated number i spin is impartial. BUT will you be brave to risk entire pot just to try assassinate the current leader i would not be lol